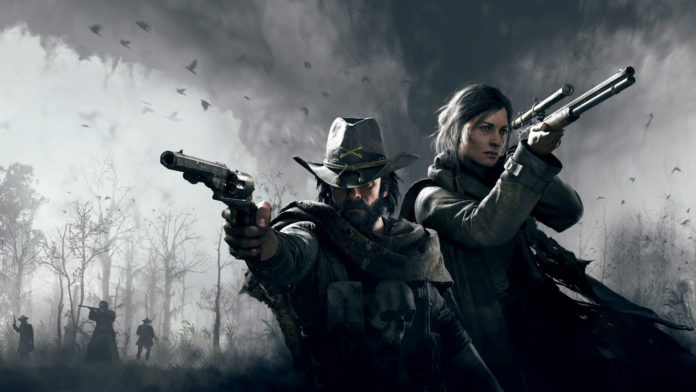 Am heutigen Dienstag hat Hunt: Showdown den Early Access verlassen und ist nun als Vollversion mit vielen neuen Features in Stream verfügbar.
18 Monate Early Access
Nach knapp anderthalb Jahren im Early Access hat es das Team aus Frankfurt geschafft und schubste Hunt: Showdown am heutigen Dienstag über die Schwelle zur Vollversion.
Mit dem neuen Update 1.0 erhielt das Spiel unter anderem einen Trio-Modus, ein neues Fortschritts- und Pingsystem, weibliche Jäger und ein neues Interface.
Weitere Infos zu den Inhalten von Version 1.0 findet ihr in unserem letzten Beitrag zum Thema.
Via Twitter bedankten sich die Entwickler geschlossen bei der Community, aber auch einzelne Mitglieder des Teams äußerten sich nochmals getrennt und dankten den Spieler für das Mitwirken bis zu diesem Punkt.
We would like to thank every single one of you for taking part in our journey through Early Access!

We are extremely proud to have one of the best gaming communities! ❤️

~The Hunt Team #RiseUpHunter pic.twitter.com/ul7uJM14st

— Hunt: Showdown (@HuntShowdown) August 26, 2019
In den letzten Tagen und Wochen hatte die Community auf der Zielgeraden erst auf den Testservern und dann auf den Liveservern an gemeinsamen Aufträgen gearbeitet.
Während die Belohnungen in Form der neuen "Bloodbonds" schon aktiv waren, kommt der exklusive Vanguard-Skin für den Pax-Revolver mit dem nun folgenden Release auch ins Spiel.
Release nur der nächste Schritt
Der Release der Vollversion soll allerdings nur der nächste Schritt sein und keinesfalls das Ende der Entwicklung des Horror-PvP-Shooters.
So sind etwa ein Hardcore-Modus, Charakteranpassungen und Dual-Wielding (beidhändiges führen von zwei kleineren Waffen) sowie neue Inhalte in Form von Monstern, Waffen und Traits geplant.
Wann mit dem nächsten Inhaltsupdate zu rechnen ist, ist derzeit noch nicht bekannt – allerdings sollten die Spieler mit Update 1.0 und dessen Neuerungen wohl eh erstmal etwas beschäftigt sein.