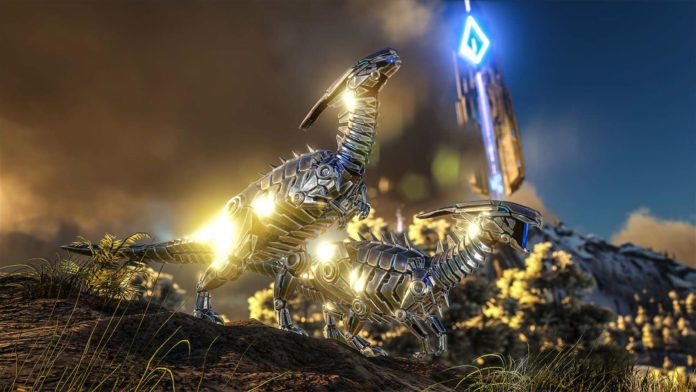 Mit der Extinction Chronicles-Reihe bereiten die Entwickle von ARK: Survival Evolved das Spiel und die Community auf den Release der nächsten Erweiterung ARK: Extinction vor.
Zuletzt brachte der Patch v282.102 das "Extinction Chronicles III"-Event – und damit den TEK-Raptor ins Spiel.
Extinction Chronicles IV
Der nächste Patch bringt nun "Extinction Chronicles IV" mit sich – und damit auch wieder ein neues Ausrüstungsteil (Corrupted Chest) und auch den neuen TEK-Parausaurus, wie die Entwickler nun im Rahmen des Community Crunch 149 ankündigten.
Das neue Ausrüstungsteil ist über die drei neuen Entdecker-Notizen freischaltbar, die man auf The Island, Scorched Eaerth und Aberration finden kann.
Zusätzlich zu diesen Neuerungen wird es neue Farbvariationen bei quasi allen Dino-Arten auf den ARK's geben. In diesem Monat sind es Varianten in sportlichem Grün und elegantem Schwarz.
Während die Dinos in speziellen Farben zeitlich begrenzt nur ab dem Patch bis zum nächsten Teil des Extinction Chronicles-Events verfügbar sein werden, werden die Entdecker-Notizen und die neuen TEK-Dinos auch nach Release des neuen DLC's verfügbar sein.
ARK Extinction Chronicles IV Patchnotes
Extinction Chronicles IV

TEK Parasaurus hinzugefügt

Neue Brutlinie
5% Chance zu spawnen
20% höheres Basis-Level

Neue Farb-Sets hinzugefügt (grün & schwarz)
3 neue Entdecker-Notizen hinzugefügt (schalten Corrupted Chest frei)
Spieler-Maximallevel um 1 angehoben

"Hole Fixes" auf The Island, Ragnarok, Scorched Earth, The Center, Aberration
Windmühlen werden nicht länger durch elektrische Stürme beeinflusst.
Der Bauradius der Kliff-Plattformen wurde halbiert.