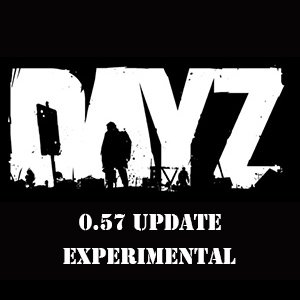 DayZ Update 0.57 Experimental

Mit Patch 0.57 erreichte heute Nacht das lang erwartete große Update die Experimental-Server, das auch alle Inhalte von 0.56 mit sich bringt.
Das 700 MB schwere Update bringt keine offiziellen Patchnotes mit, deshalb tragen wir in diesem Beitrag alles zusammen, was bisher im Update an Neuerungen entdeckt wurde.

Update: 0.57 ist nun auf den Live-Servern der Stable-Version aufgespielt worden. In Kürze findet ihr bei uns einen neune Changelog!
Es ist davon auszugehen das ein Großteil der in der Experimental-Version gefunden Änderungen übernommen wurden.

DayZ – Update 0.57
[Mechanic] Items können nun auch außerhalb des Playerinventars beschädigt werden – Kurzes Video
[Mechanic] "Wooden Sticks" sind nun horizontal statt vertikal im Inventar angeordnet
[World] Berezino reworked (siehe unten)
[World] Schulgebäude neu gestaltet (siehe unten)
Bestätigte Bugfixes
0024341: [Inventory] Logging out/in with a weapon in your hand makes it immovable. (Geez) – resolved.
0024054: [Inventory] Paint gun will "lock" up gun in inventory and magazine detaches itself and disappear (Geez) – resolved.
0024719: [Inventory] Winchester disappeared (Geez) – resolved.
0015905: [Environment] shed goes through barn (Geez) – resolved.
0024701: [Environment] Small Lake bugged north of Polesovo (Geez) – resolved.
0024423: [Items] 0.56 EXP – Replaced prison building still spawn loot (Geez) – resolved.
0019745: [Glitch abuse] V3S drives without wheels (Geez) – resolved.
0024357: [Controls] [0.56 exp]Can't get into V3S (Geez) – resolved.
0024374: [Environment] EXP 0.56, Struggling to swim over new trench to Prison Island. Invisible wall (Geez) – resolved.
0024421: [Environment] 0.56.127666 map changes – pond miss-placement in the north (Geez) – resolved.
0024739: [Server] [Experimental 0.56] Server crashes. I found a reason. (Geez) – resolved.
0024547: [Error message] "Confirmation of changes, No Entry, 'bin\config.bin.CfgSkeletons'. (Geez) – resolved.
0024309: [AI behavior] Zombies dont see me through chain link fences. (Geez) – resolved.
Im Norden Berezino´s findet sich nun ein neuer Distrikt
Die Bilder wurden uns freundlicherweise von @TatankoX zur Verfügung gestellt!

[metaslider id=1218]
Das Schulgebäude wurde neu gestaltet, zu finden ist es in Chernogorsk, Elektrozavodsk, Zelenogorsk, Severograd und Novaya Petrovka

[metaslider id=1209]
Weitere Neu-Entdeckungen aus dem neuen Experimental-Server-Update

[metaslider id=1231]