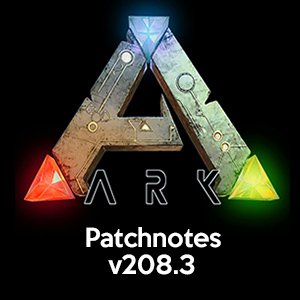 Die auf Version v208.0 folgenden Patches v208.1 und v208.3 beheben diverse Bugs im Spiel. Die meisten der Patchnotes beziehen sich auf die Flöße und die neuen Sattel-Plattformen.
Aktuelle Version
v208.3
Einige Servercrashs der "Survival of the Fittest"-Server wurden behoben.
Die Anzeige der Reperaturkosten für eine Struktur ist nun genauer und auch wirklich zutreffend.
Vorherige Version
v208.1
Flöße können nun nicht mehr tauchen. 😉
Es wurde ein Fehler behoben bei denen Flöße an der Position 50,50 im Untergrund steckenblieben.
Diverse kleinere Probleme mit den Leitern im Untergrund wurden behoben.
Es wurde ein Fehler behoben bei dem der Spieler von einer Flugkreatur auf einen Plattform-Sattel getragen und dann teleportiert wurde.
Es wurde ein clientseitiger Fehler behoben der fälschlicherweise Strukturen die nicht existierten auf Plattform-Sätteln anzeigte.
Es wurde ein Fehler behoben bei dem der "Pachy" den Spieler extrem hoch schleudern konnte, sobald er ihn ausgeknockt hatte.
Der Pflanzkübel-Dünger wird nun wie gewollt aufgebraucht und zerstört, sobald er leer ist.
Ihr werdet nun nicht länger vom Fahrersitz des Floßes gedrückt, wenn sich auf selbigem Strukturen befinden.
Quelle: Patch Notes- Current (v208.3)